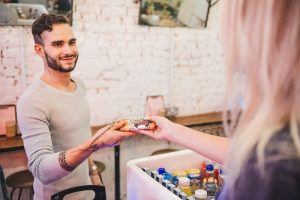 Wall's retro Feast ice cream has returned as the Feast Sandwich – the ultimate snackable treat.
As part of its mission to spread happiness, Wall's is coming to Soho Grind on Thursday 31st of August and has "frozen" its prices at 5p – a nod to when Wall's first started selling ice cream in the 1920s.
The café, open for one day only, celebrates the last day of summer and pays homage to the 'roaring twenties.' Visitors to the café should prepare to feel nostalgic as they enjoy the chocolatey treat whilst listening to classic twenties hits.
The innovative Feast Sandwich is part of the new Wall's snackable range, a modern take on the beloved classic Feast, with nuts, chocolate and vanilla.
Open on Thursday 31st August at swell Soho Grind, the Feast Sandwich café will be selling 5p Feast Sandwiches from 3PM to help deliver more smiles to Londoners.