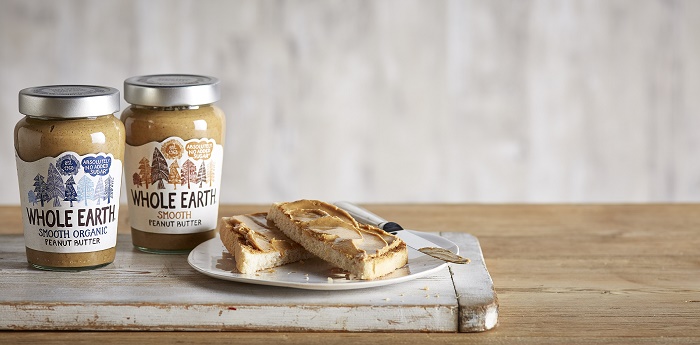 Whole Earth has announced significant increases to its sports partnerships for 2017/18, to reinforce its proposition of fuelling healthy living and exercise.
The brand has announced two new high profile partnerships; one with global sportswear and equipment brand Reebok, and another with England Netball. Whole Earth's existing agreement with the British Triathlon Federation has also been expanded.
As the only food company to partner with Reebok in 2017, Whole Earth will collaborate with the well-known sports brand on several projects this year, including multiple sampling initiatives and branding opportunities at Reebok events. Whole Earth has already been part of a large-scale European PR launch for Reebok and joined forces with the brand for an on-pack promotion on its peanut butter jars.
Whole Earth has  taken on a new partnership with England Netball and The Vitality Netball Superleague. Netball is currently the most played female team sport in the UK, with over one million women and girls playing netball each week.
Whole Earth's branding will be visible on court for all England Netball and Superleague matches, which will be seen by 750,000 viewers at home with matches broadcast on Sky Sports. Raising brand awareness further, Whole Earth will also feature in the club newsletter and the partnership will be amplified on social media.
Mad River negotiated the partnership between Reebok and Whole Earth and are responsible for the on-pack promotion and the events run as part of this partnership.
Mad River  also manages the events for the BTF partnership and Man v Horse event.  Their work includes the concept development, event design and production and event management and logistics.
Katrina Farmer, senior brand manager, at Wessanen UK, owner of Whole Earth, comments: "We are delighted to have bolstered our commitment to sport through these new and extended agreements. We describe Whole Earth's products as nature's wonder fuel – a natural source of protein and fibre, and perfect for fuelling busy, energetic lives.
"Our new sports partnerships with Reebok and England Netball are a great fit for the brand. They will strengthen our association with healthy living whilst enabling us to extend our audience reach with our target consumers – those who looks after themselves, eat well and enjoy an active lifestyle."
In addition to the two new partnerships, the brand has also increased its reach with British Triathlon, which has added a new event to its roster. With 80,000 spectators and 6,000 participants at each event, this gives the brand even more opportunity to sample product and increase awareness of its NPD, exiting portfolio and overall brand message. The events will be televised for the first time this year, and are expected to attract 2m viewers at home.
The brand will also continue to sponsor the Man V Horse endurance race in 2017 for the fourth consecutive year.
Katrina Farmer adds: "2016 was a great year for Whole Earth, which saw us take the top spot in the peanut butter category for the first time. Peanut butter generally is experiencing some fantastic growth with many recognising it for its nutritional value. We want to keep the momentum going for Whole Earth and capitalise on the market growth, with targeted brand partnerships and marketing activity that will increase our reach."