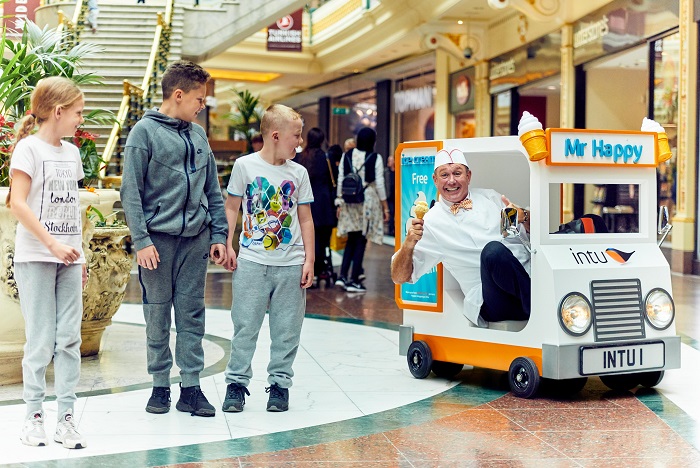 The world's smallest ice cream van has been unveiled as part of intu's pledge to make customers smile and follows research revealing that eating ice cream makes people happier.
The mini motor launched at intu Trafford Centre in Manchester ahead of a UK tour, delivering free bitesize scoops to intu customers.
The 'Nice Cream Van' measures just 47 inches long and 39 inches high with a maximum speed of 12MPH. It will go on a nationwide tour of 14 intu shopping centres to surprise shoppers around the country with free Bradwells ice cream.
The tour of the tiny van follows research revealing that eating ice cream is one of the top 20 things that make people happiest in the summer. Others on the list include walking barefoot in the grass, taking a trip to the beach, having a BBQ, going on holiday and shopping for a summer wardrobe.
The research also revealed that three quarters of Brits (75 per cent) feel happier in the summer than they do in the winter, with sunshine (27 per cent), longer days (24 per cent), summer holidays (16 per cent) and more outdoor activity (15 per cent) the top reasons given.
Roger Binks, customer experience director for intu, comments: "We're delighted to have created what we believe is the world's smallest ice cream van but the real win will be seeing the smiles it puts on people's faces at intu shopping centres around the country for those lucky enough to get free ice cream. We work really hard to create experiences that will surprise and delight our 35 million customers and make each individual shopping trip a happier, more memorable one. At intu we have something for everyone and whether you're someone who loves to shop or a bit more of a last minute panic shopper, we aim to ensure you leave happier than when you arrived."
The 'Nice Cream Van' will be stopping off at every intu shopping centre around the country including intu Trafford Centre, intu Lakeside and intu Metrocentre from 2-17 August.
National tour dates –
Weds 2 Aug: intu Trafford Centre, Manchester
Thurs 3 Aug: intu Braehead, Glasgow
Fri 4 Aug: intu Metrocentre, Gateshead
Mon 7 Aug: intu Eldon Square, Newcastle
Tues 8 Aug: intu Potteries, Stoke
Weds 9 Aug: intu Merry Hill, West Midlands
Thurs 10 Aug: intu Derby, Derby
Fri 11 Aug: intu Victoria Centre + intu Broadmarsh, Nottingham
Mon 14 Aug: intu Chapelfield, Norwich
Tues 15 Aug: intu Milton Keynes
Weds 16 Aug: intu Watford + intu Uxbridge
Thurs 17 Aug: intu Lakeside, Essex