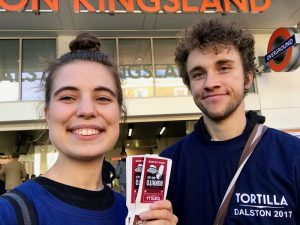 Tortilla, the local Californian burrito and taco restaurant,, has linked up with staffing agency StreetPR to run an awareness campaign to drive customers to its new Dalston store, which opened in the t London district at the start of September.
Tortilla marked its Dalston launch by offering free dinner to locals the night before the official opening. StreetPR ambassadors in Tortilla uniforms were deployed at Dalston Kingsland and Dalston Junction on the London Overground network, the two nearest transport hubs to the new outlet, handing out leaflets and engaging with new potential customers to promote the opening and encourage them to try the cuisine free of charge.
Over the duration of the three-hour pre-launch activity, Tortilla managed to serve almost 450 customers thanks to the support of StreetPR.
The ambassadors then spent the following week handing out Oyster card wallets, which contained a mini menu and voucher for Tortilla's signature burrito, to continue to build interest and help get commuters into the mindset of swinging past the store after work on their way home.
Chloe Staples, head of marketing at Tortilla, says: "Dalston is an up-and-coming area with an increasingly young, fresh vibe. StreetPR was able to find professional, friendly faces which fitted perfectly with our brand, our people and the customers in the area. It's the first time we've done such a heavy-hitting campaign like this, and we've been extremely happy with the results."
Dorian Payne, head of operations at StreetPR, adds: "Tortilla was a joy to work with and has proved to be a perfect fit for both Dalston and StreetPR. Our team loved working alongside the opening crew and thoroughly enjoyed the challenge of getting people through the door to such an exciting new concept in this area, I'm confident it's going to be a blazing success."
Tortilla was already working with digital agency Blue Social to launch the store across their social media platforms, which is a sister company of StreetPR and part of the Harrix Group.