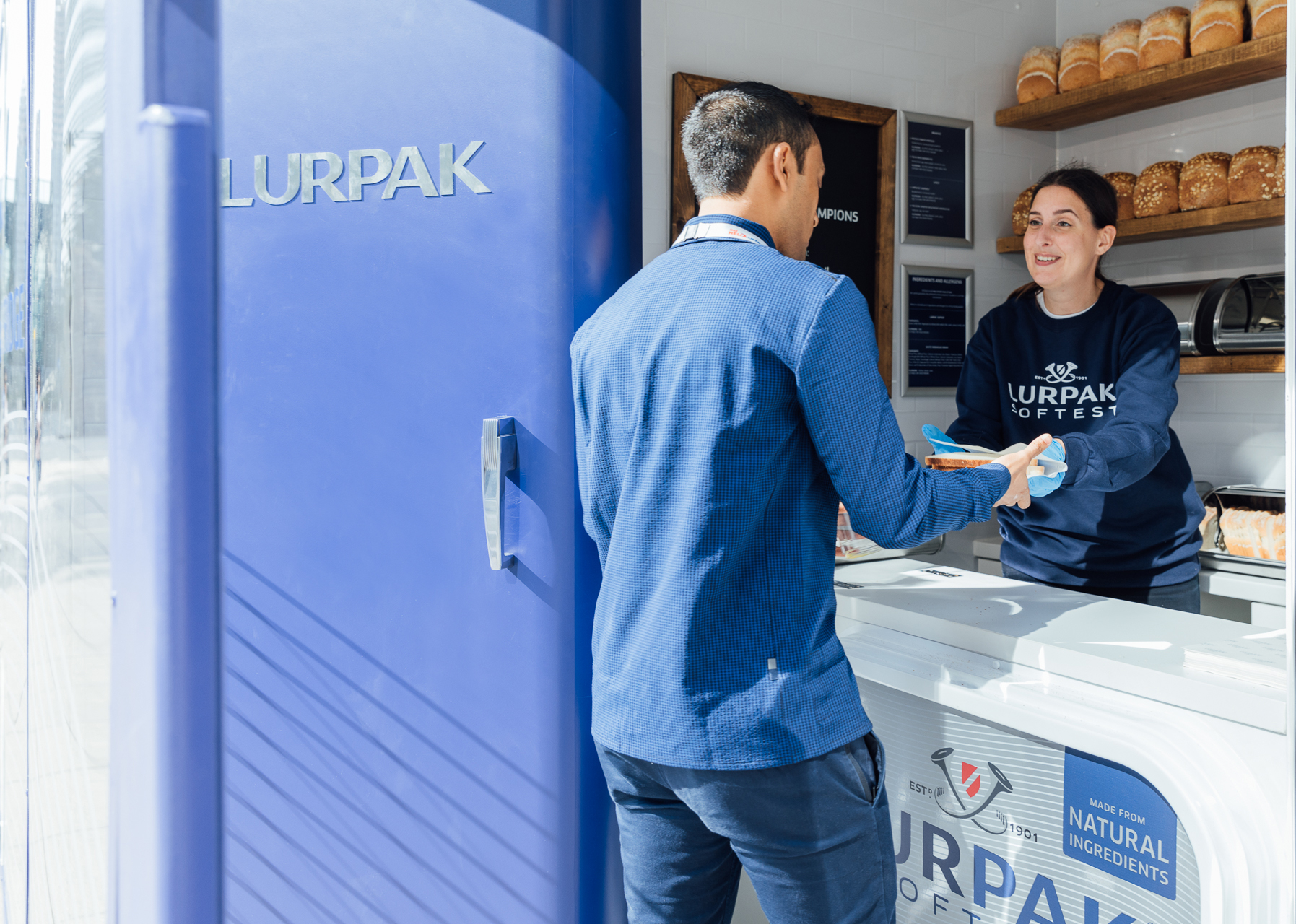 Brand experience specialist, BD Network, is spearheading a new experiential campaign to support the launch, and drive trial, of Arla Food's new butter variant, Lurpak Softest.
The touring activation is targeting time-poor office workers and professionals around the UK, showcasing the core benefits of Lurpak Softest – while also conveying the brand's promise that shoppers needn't compromise between convenience and taste.
The sandwich-themed roadshow experience focuses on hands-on trial of the new product, offering visitors the chance to make their own breakfast or lunch sandwich, within a self-contained chilled unit featuring three distinct areas.
The staged experiential approach begins with a bakery window offering freshly baked goods, before moving through to a second chilled room where people can experience first-hand just how easy it is to spread Lurpak Softest onto freshly baked loaves, even when cold.
In the final room, visitors can choose either a meat or vegetarian filling to complete their Lurpak Softest sandwich, with different choices for breakfast and lunch options.  Within the sandwich room, consumers hand over their buttered bread to the Lurpak sandwich experts for filling, and receive it back wrapped, along with a bespoke Lurpak butter spreader made from recycled Italian olive wood, and a £1-off Lurpak Softest 500g pack.
The tour, which is visiting London, Bristol, Cardiff, Liverpool, Manchester, Leeds and Glasgow through to 14th September, is supported by experienced foodie staff from TSR (The Staff Room UK). It offers two sandwich sittings per day, for breakfast and lunch.
Lucy Hurrell Morgan – Lurpak Brand Manager, comments: "We're really excited to introduce this new product in such an interactive way. For consumers to be able to try Lurpak Softest first hand will really prove how effortless it is to spread, straight from the fridge. As the champions of good food, we wanted to complete the experience with a delicious Lurpak inspired sandwich."
Imogen Scriven – Account Director, BD Network, adds: "With this campaign, BD Network supported by TSR (The Staff Room UK) have created another category first, enabling people to experience new Lurpak Softest in an authentic way and truly land the brand message – Lurpak Softest, spreads effortlessly, straight from the fridge."