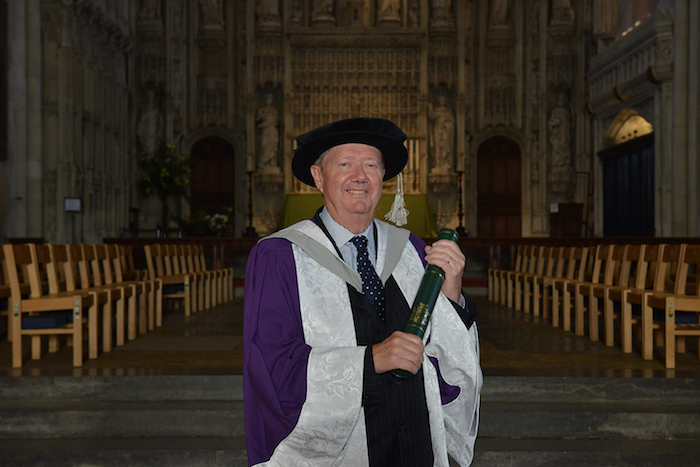 David Charles Pearson has been awarded an Honorary Doctorate from the University of Hertfordshire in recognition of his significant career in, and contribution to, the marketing industry.
Harpenden resident and former managing director of Sony UK, David was awarded an Honorary Doctor of Letters at a ceremony on Friday 7 September, held at St Albans Abbey. "I feel both proud and humble at the same time to receive this award for services to marketing," said David.
David has brought his sales and marketing expertise to a number of well-known British and international brands over the course of four decades, including Sony, Procter and Gamble, Mars and Pillsbury. He has conducted business transactions in more than sixty countries and has served on twenty-six boards.
As managing director of Sony UK Consumer Products in 1988, and subsequently managing director of the whole of Sony UK, he had responsibility for a turnover of more than £2.2 billion and five thousand employees. David led the team that built sales of consumer products from £150 million to £523 million in just ten years.
Following his departure from Sony UK, David joined the Pentland Group, looking after its high-profile sports brands, such as Speedo, Ellesse and Lacoste. In just one year the company's international sales grew from £296 million to £326 million – in a flat market.
Widely acknowledged for his contribution to sales and marketing, David was elected to the UK Marketing Hall of Fame in 1995 and was made a Life Fellow of the Royal Society of Arts in the same year. In 2012 he was awarded an Honorary Fellowship by the University of Bedfordshire and more recently in 2016, he was awarded an Honorary Fellowship of the Marketing Society.
David is also the author of The 20 Ps of Marketing, which is recognised as a comprehensive guide to marketing strategyas well as Marketing for Good is Good Marketing, based on the weekly blog he produced as Master of The Worshipful Company of Marketors, a position to which he was elected in 2016.
Since 2005, David has been working in the public, private and voluntary sectors. He acts as non-executive chair, director and advisor, including providing mentoring support to the CEOs of charities.