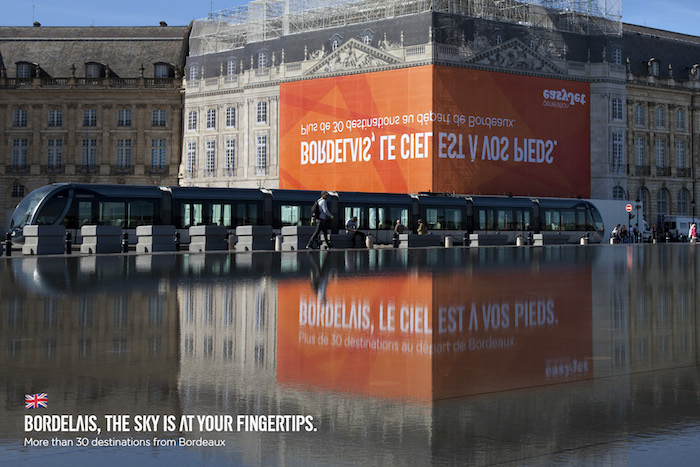 After hacking the Bordeaux marathon last March, easyJet once again settles in the "Sleeping beauty" town and unveils a event designed by Buzzman.
As the second largest city in France to host the most classified monuments, Bordeaux is one of the must-see tourist destinations in France. Its water mirror – in which are reflected the "Place de la Bourse" and the city docks – is the largest in the world. A place appreciated for its its fountains and its mysterious fog by both the "Bordelais" and tourists alike.
With over 30 destinations from Bordeaux, easyJet decided to recall its promise of escape by playing with the urban landscape of the city. An immense outdoor canvas installed on the "Place de la Bourse", illegible at first glance with its backward writing, suddenly makes sense when you contemplate the 3000m2 water mirror… A true dreamlike invitation to travel.
A contest will be launched on the company's social networks to mark the occasion. Internet users will be invited to take a photo and share the canvas with the #UpsideTown hashtag. Whoever takes the most beautiful picture, will win a return for 2 people to the destination of their choice.