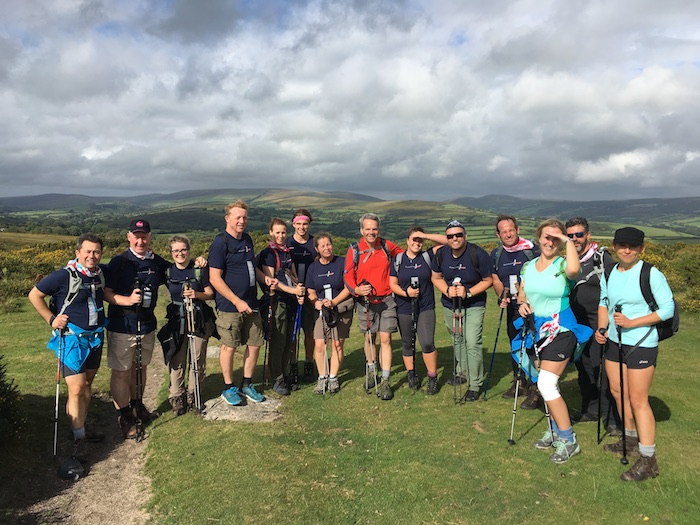 Ten years after the first Howard's Way Walk, events professionals are training hard for their annual challenge, which this year will take them over an 87-mile stretch of the Ridgeway over the weekend of 8-10 June.
The organisers have announced that 2018 will mark the fundraiser's eighth and final big walk.
Initiated by freelance logistics manager Howard Kerr, the events industry charity fundraiser has attracted a committed following of industry stalwarts to attempt a succession of annual long-distance hikes. Their efforts are dedicated to funding research to fight pancreatic cancer, the disease that claimed Kerr's life in 2008.
The inaugural walk was planned by Howard Kerr himself, and undertaken with 12 industry colleagues who walked theRidgeway, an ancient track running from Hertfordshire to Wiltshire. The challenge was completed in just three days as opposed to the recommended six.
Since then, Kerr's brother-in-law, Nick Grecian, Managing Director of events industry services group Gallowglass, has led the subsequent routes. As well as tackling some of the most physically-demanding pathways in Britain, including Hadrian's Wall, the Dales Way and the West Highland Way, there have been two successful 'Netwalking' events, which saw crowds of events professionals cross the 10-mile stretch from Chelsea FC's Stamford Bridge to the Emirates stadium in 2015 and 2016.
"Why are we bringing it to a close?  It takes a lot of organising and the fundraising gets harder each year" said Grecian, "but our 10thanniversary seems a logical time to wind it up. We've raised over £350,000 in total, which has helped make serious inroads in terms of achieving earlier diagnosis of the disease. The researchers are not there yet, but there is real cause to believe we'll see a huge improvement declared in the near future."
"It has been an interesting journey, literally – one with a genuine mix of pain and pleasure. A huge sense of achievement, some amazing friendships forged and a lot of self-discovery for those participating…and all in a great cause!"
In June, the walkers will be revisiting their inaugural route – but this time retracing their steps, starting at the Avebury stone circle in Wiltshire and finishing at Ivinghoe Beacon in Hertfordshire, where the first steps were taken 10 years ago.
The walk has maintained a loyal core of participants, and this year will see the return of Howard's Way Walk regulars, including Simon Burton, Managing Director, Exposure Communications; Andrew Dixey, JLR Global Government & Utility Strategy Manager, Jaguar Land Rover; Lee Farrant, Founder, 3Flags; Laura Moody, Managing Director, Blondefish, and Gary White, Managing Director, White Productions – not forgetting our own Magazine and Awards Director, Frank Wainwright.
The walkers will be sustained throughout the route by an event support team headed by Howard's widow, Jane Kerr, of Kerr Associates, who will be setting-up comfort stations to furnish the walkers with quantities of carb-rich energy food and drinks.
"On behalf of all the walkers, I'd particularly like to thank Jane for the enormous part she has played in the organisation and support of these events," added Nick Grecian.
Over the last decade, Howard's Way Walk has raised awareness of pancreatic cancer and over £350,000 to help fund ongoing research.