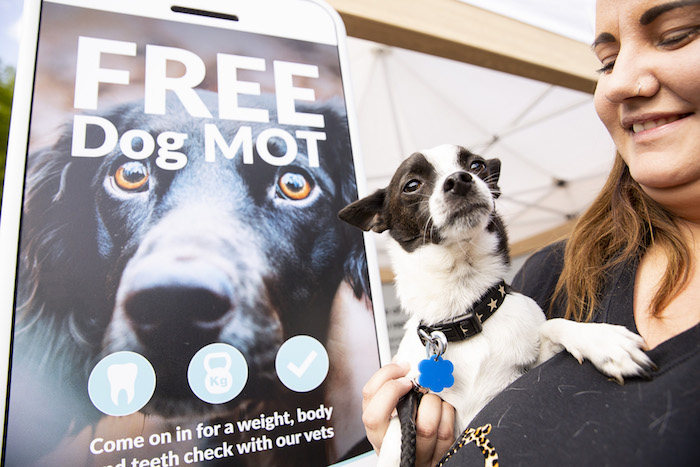 The mobile app service, FirstVet, which provides video call veterinary consultations, will be offering Free dog MOTs to deliver 'peace of mind for pet owners' at DogFest events this summer.
Founded in Sweden, FirstVet delivers fast and affordable round-the-clock access to experienced vets via the FirstVet app. Its walk-in clinics at this year's DogFest events, designed and managed by global brand experience agency Sense, enable festival goers to give their dogs a robust health check from one of FirstVet's on-site professionals. Dogs are examined for teeth, weight and general health, while Sense brand ambassadors help owners with the sign up process, and credit their account with a free online consultation for future use.
"We wanted to provide an experience that reflected the FirstVet proposition; providing an opportunity to give visitors peace of mind about their pet's health and leave with the reassurance that they have a qualified vet just a phone call away should they need advice in the future," explained Sense Account Director Beth Nicholas. "Our FirstVet Free MOT experience at DogFest has been designed to achieve this, and we think it's a very tangible representation of the benefits FirstVet offers."
Commenting on the campaign, David Prien, the CEO of FirstVet said: "We all know that pets aren't just animals, they are part of the family. Despite all the joys of owning a pet, having them fall unwell can be a worrisome and expensive ordeal. In these instances, FirstVet can provide much-needed reassurance and instant peace of mind from our experienced, UK registered veterinarians who are available 24/7. We're delighted to be working with Sense to translate this peace of mind to visitors at this year's DogFest events."
The initial FirstVet Free Dog MOT experience took place at DogFest at Knebworth, Hertfordshire on 11 and 12 May, and will also visit subsequent events at Tatton Park, Cheshire on 15 and 16 June, and Ashton Court, Bristol on 23 and 24 June.