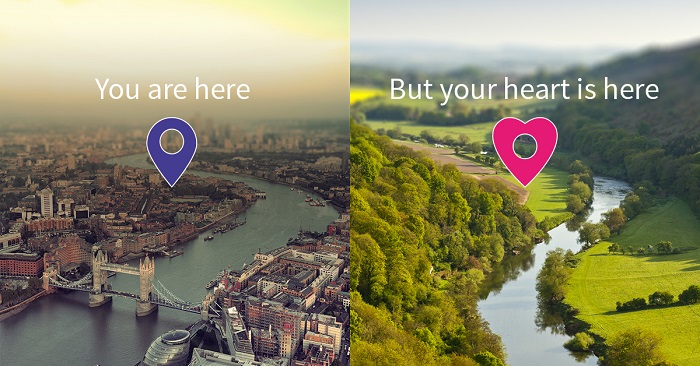 Hunterlodge Advertising has created an integrated campaign to launch Britain's Ordnance Survey's OS Maps to drive deeper engagement with outdoor enthusiasts.
The campaign, entitled 'You are here' will run throughout July and August 2016 and aims to bridge the gap between paper and digital and shift the perception of audiences who currently think that Ordnance Survey is only associated with paper maps.
Hunterlodge was tasked with developing an integrated campaign to dramatise the benefits of the new OS mapping product and recruit 50,000 new subscribers, supporting Ordnance Survey's mission to become the number one 'go to' brand for outdoor leisure pursuits in Great Britain, through enabling the discovery of adventure.
The campaign conveys the message that for most people, time constraints act as a barrier to participation in outdoor pursuits – with work, family or other commitments getting in the way. The 30 second TV ads forge an emotional connection by reflecting those surroundings and deploying the map symbol 'You are here'. This image then dissolves into a vista of the great outdoors- 'When your heart lies here', highlighting that OS Maps is a means of escape.
The campaign will also run across print, radio, online, and social.
Kim McLellan, client director, Hunterlodge Advertising, commented: "We were presented with a challenging brief for a niche audience with individual motivations and barriers. Through starting at the end and utilising detailed data insight and segmentation, we were able to drive emotional connections and create engaging messages for the outdoor market."
Liz Beverley, consumer marketing manager, Ordnance Survey added: "OS Maps is the ultimate guide to the great outdoors, built with the off-road leisure market in mind. All the features are targeted at providing an enjoyable, accessible and safe experience for the experienced and novices alike. Building on our brand heritage, Hunterlodge has developed an effective campaign to not only reach our homeland but also introduce our products to a more diverse audience."