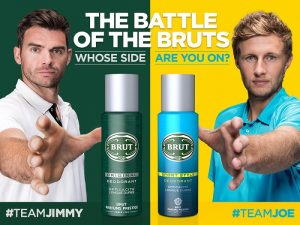 Brut, the men's grooming brand, has announced the appointment of England's Test captain, Joe Root, as its new ambassador.
This year Joe Root will line up alongside England fast bowler Jimmy Anderson, who has extended his deal with Brut after a successful year in 2016. Root joins a list of sporting greats who have represented the brand, including Kevin Keegan, the late Barry Sheene and Henry Cooper.
As part of this year's campaign Joe Root will hero the Brut Sport Style range and Jimmy Anderson will champion the Brut's Original range. Fans will be asked to choose 'Whose side are you on, #TeamJimmy or #TeamJoe?' via social and digital channels.
To complement the ambassadorship Brut has partnered with The Telegraph to bring cricket fans an exclusive Jimmy Anderson column ahead of each England Test this year. As part of this partnership, Brut will have access to Apple News inventory across multiple publishers. And both Root and Anderson's images will be used on multiple Brut in-store promotions and on gift packs.
On becoming a Brut Ambassador, Joe Root, said: "Brut is synonymous with sport and I'm delighted to be joining a brand with such a rich heritage. Having seen what Brut did with Jimmy Anderson in 2016 I'm excited to join the team and see what we can achieve in 2017, particularly with the #TeamJoe or #TeamJimmy campaign."
On continuing his relationship with Brut, Jimmy Anderson, said: "After a successful 2016 I'm thrilled to be renewing my ambassadorship with Brut, and especially pleased that Joe Root has also been brought on board. I love the idea of #TeamJimmy or #TeamJoe and am confident people will make the right decision!"
Annabel Williams, Unilever marketing manager – Europe, said: "Having the England Test captain, Joe Root, and England's greatest-ever wicket taker, Jimmy Anderson, as BRUT ambassadors, is a real statement of intent for the brand. Brut has always been synonymous with sport and these two ambassador partnerships further strengthens the brand's heritage. We look forward to an exciting 2017 of activity."