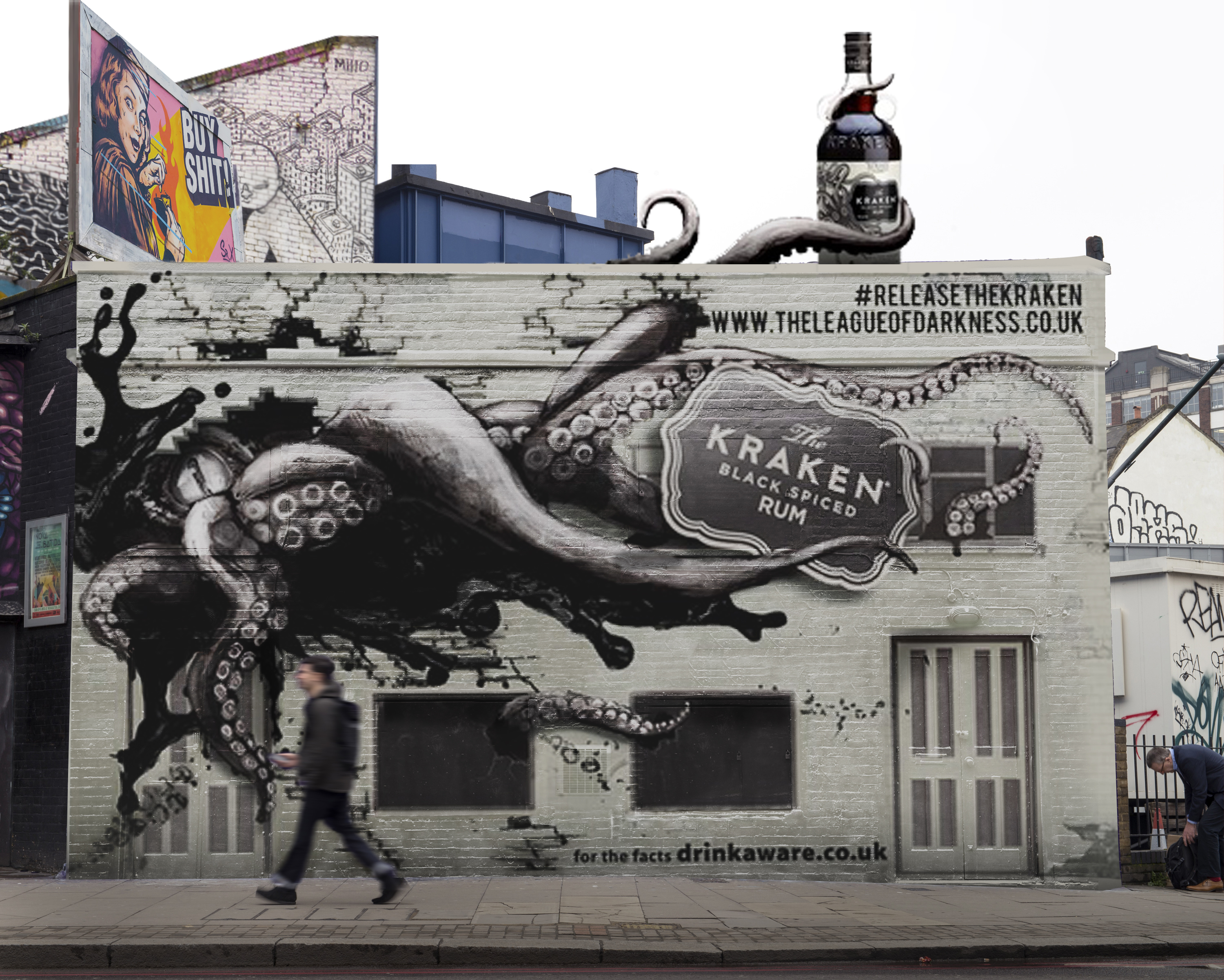 The Kraken Black Spiced Rum has partnered with Kinetic, the out-of-home agency, to bring the brand's mythical beast to life on the streets of East London as part of a major new creative 3D OOH campaign.
The execution, named The Kraken Mural, will see photorealistic artwork of the mystical sea beast wrapping its tentacles around the side of The Great Eastern Wall Gallery on Great Eastern Street in Shoreditch. The artwork is set to turn heads of the estimated 2.1 million people who pass by the site each month and encourage sharing on social channels.
The dramatic design will incorporate a unique 3D element, with the Kraken's terrifying tentacles emerging from the mural to occupy the space above the roof of the building.
The creation of The Kraken Mural began on 16th July, with photography and time-lapse video previewing the artwork across The Kraken Rum's social media channels as it builds towards completion on 19th July – remaining on display until 12th August.
Activity will run across digital channels throughout the four-week duration of the campaign and influencers will encourage followers to visit the mural for promotional giveaways. On 26th July, the brand is bringing back its legendary Kraken Crawl to celebrate the launch of the mural, which will visit five of the area's most popular bars for its loyal rum fans to sample cocktails paired perfectly with the location to get a true taste of London's East End.
Those tagging themselves with the beast will also be in with a chance of winning a range of  prizes, from diving courses to mural masterclasses, as well as free cocktails to redeem at participating Kraken Crawl bars.
Suren Sathiaraj, creative account manager for Kinetic Active, said: "We know that the legendary sea beast the Kraken can't be contained within a mural – which is why we needed to do something unique for this campaign. The 3D element really adds a splash of surprise and drama, bringing the legend of the Kraken to life and putting a creative out-of-home element right at the heart of this multi-channel campaign."