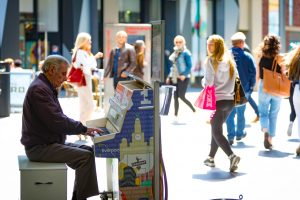 Grosvenor Europe has announced its 2017 enlivenment plans for Liverpool ONE, with a programme of events designed to create exciting, unusual and memorable experiences within the public realm at Liverpool ONE.
The Luminarium led the activity. An inflatable maze for visitors to wander through that immersed guests in colour and sound, it was designed by Architects of Air and open until June 4.  Uniquely for Liverpool ONE, the Luminarium celebrated the 50th anniversary of the classic Beatles album, Sgt. Pepper's Lonely Hearts Club Band.  Performers from LIPA and Merseyside Dance and Drama Centre interpreted the tracks from the Sgt. Pepper's Lonely Hearts Club Band to celebrate the influential album
An AstroTurf installation by Lazylawn on the Sugar House steps adjacent to Chavasse Park is another first for Liverpool ONE. In place until the end of September, the Sugar House steps are a focal point for people to meet and enjoy the weather during events in the city, such as The Mersey River Festival and Revo 2017
The lawn theme is continued with the creation of a natural living room in Chavasse Park from June until September. Liverpool ONE's five-acre park will feature a number of 'sofa style' grass installations for visitors of all ages to interact with and relax on
The award-winning 'Tickle the Ivories' returns to Liverpool ONE for 2017, providing six public pianos between July and September. Each piano will be uniquely branded and come with free sheet music to tie-in with various musicals launched in Liverpool theatres.  The instruments will be available for members of the public to play, as well as being fully licensed for busking musicians to use
Finally, Liverpool ONE will host a number of events as part of its partnership with the The British Style Collective (BSC) during a two-day festival in early July. Bookable experiences include sushi and cocktail making, makeup tutorials, and styling workshops delivered by leading brands in a range of locations around Liverpool ONE
Commenting on the news, Miles Dunnett from Grosvenor Europe, said: "We are delighted to announce this programme  of installations, all of which add something unique to the Liverpool ONE experience.  These events will enhance our appeal as an all-day destination, and this type of activity underpins findings from CACI earlier this year that revealed more shoppers would recommend Liverpool ONE as a retail destination than any other in the UK (source: CACI 2017)."
The new enlivenment projects follow the recent creation of the largest wind turbine made from Lego Bricks, certified by Guinness World Records, which was located on Paradise Street.  On May 17, the world record build was created with over 146,251 Lego bricks and measured over 7.5m in height.