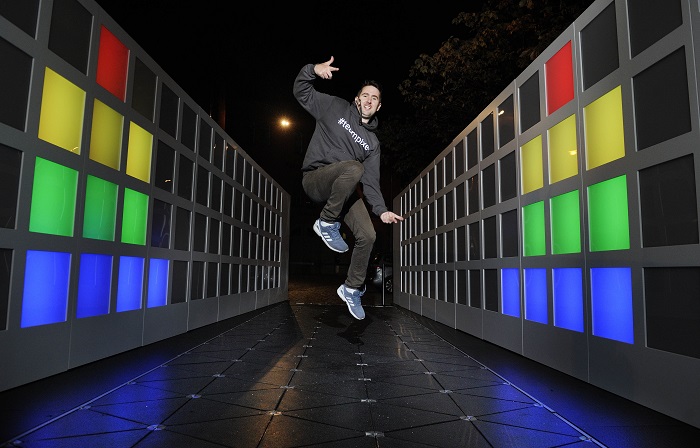 The footsteps of visitors to the world's largest single energy harvesting array are being converted into off-grid electrical energy to trigger a synchronised lighting display and generate videos recording their experiences. The footsteps of visitors to the record-breaking 26-square metre installation at KulturBrauerei, set-off light panels embedded in the walls of the installation. Their movements will be captured and shared to them as GIFs by a photo pod at the end of the array.
Pavegen has partnered with Google to make Berlin's 2017 Festival of Lights, founded in 2004, interactive. The installation incorporates Pavegen's V3 flooring system which converts the kinetic energy of footsteps into off-grid energy and data.
100 electro-magnetic generators are converting the kinetic energy of people's footsteps into off-grid electrical power which is then being used to trigger 176 coloured light panels surrounding users and to provide data on the energy generated.
Pavegen founder, Laurence Kemball-Cook, comments: "The Berlin project marks a pivotal moment for us during a year when we have delivered significant permanent installations in other important cities including Washington and London. Working with Google, we're creating a highly immersive experience with which people can interactive physically, showing how the cleaner smart cities of the future will also be fun and vibrant places to be."
The interactive walkway has been developed by Pavegen, working in collaboration with agency OMD.
This is the first time that Google has exhibited at the Berlin Festival of Lights which runs from Fri 6th to Sun 15th of October from 7pm every evening.
The free event concept is to tell stories with world-famous landmarks, monuments, buildings and squares, to rediscover architecture through light. Locations such as the Brandenburg Gate and Berlin Opera House will be brought to life with advanced lighting and 3D projection mapping displays timed to live and pre-recorded performances of music.