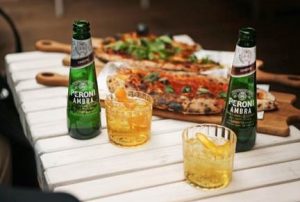 To celebrate the launch of Peroni Ambra, the Italian brew master has partnered with Somerset House to launch the 'Somerset House Terrace, Presented by Peroni Ambra' to the public.
To mark their six-month partnership with Somerset House until the end of September, 'Somerset House Terrace, Presented by Peroni Ambra' is playing host to a succession of authentic Italian pizza making masterclasses (23rd, 30th July and 6th August), as part of the 'Discover Aperitivo with Peroni Ambra'; a series of events taking place across the summer, to drive discovery of the new aperitivo by Peroni Nastro Azzurro.
The intimate Sunday sessions, held during the traditional aperitivo moment, will see guests learn how to make and shape the perfect pizza dough and explore traditional Italian toppings, guided under the watchful eye of critically acclaimed chef and Master of Taste, Francesco Mazzei.
The masterclass is followed by each guests' pizza being expertly cooked in the terrace's bespoke pizza oven, which they can enjoy alongside a Peroni Ambra, within the stunning setting of 'Somerset House Terrace, Presented by Peroni Ambra.'
Tickets are priced at £30, plus booking fee. This includes a complimentary Peroni Ambra on arrival, served alongside a selection of Italian apertivo boards and a choice of 1 x Peroni Nastro Azzurro beverage with guests' meal. Additional drinks may be purchased from the bar menu.  Guests will also receive a bespoke authentic Italian 'pizza making at home' guide, alongside a selection of staple traditional Italian ingredients. A maximum of four tickets can be purchased online.
The open air, riverside space has been transformed into an immersive Italian setting. Capturing the essence of Italy, guests are transported to the rural Chinotto groves of Liguria, North West Italy.  To celebrate the versatility of the Chinotto fruit, as well as the Italian tradition of the aperitivo occasion, Master of Taste, Francesco Mazzei, has also curated a aperitivo menu.