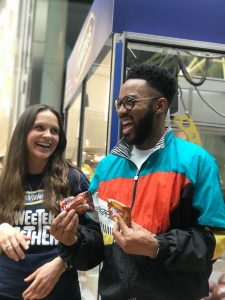 As part of their re-launch of the McVitie's brand and £12m multi-media advertising campaign whynot! think people have been appointed to create the 'Sweeter Together Challenge' for McVitie's Nibbles, touring stations and shopping centres around the country throughout April and early May.
The Sweeter Together Challenge is an interactive experience, reflecting the creative theme of the new "Crane" TVC created by Grey London.  Centred around the iconic tower crane, the touring experience creates camaraderie requiring two consumers to work together to operate the crane to grab a giant McVitie's 'prize' Nibble, to instantly win prizes that are sweeter when enjoyed together.
Sarah Heynen, marketing vice president, Pladis UK & Ireland reflected on the event: "whynot! think people have done an incredible job of bringing both the fun sharing attributes of Nibbles, and our Sweeter Together campaign to life.  The challenge element physically executes our new brand purpose – enabling everyday moments of real human connections. We are confident that this brand experience will tap into our consumers' love for our brands as well as supporting our efforts to drive penetration and repeat purchase of our Nibbles range."
David Ryan, creative director, whynot! think people comments: "Our Nibble twist on the iconic crane game is the perfect fit for a legendary brand such as McVitie's. The Sweeter Together Challenge brings to life the new brand purpose, not only visually but by bringing people together to enjoy moments of sharing, the sweet spot for Nibbles."
The Sweeter Together Challenges will be filmed and edited, with content featuring on outward facing TV screens at the events, as well as part of a social media campaign to amplify the activation, extending campaign reach and driving footfall to future events.