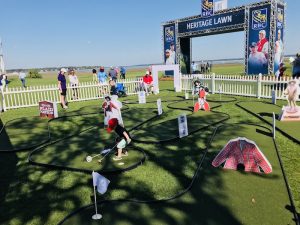 Provision Events (PVE), the sponsorship activation expert, welcomed the stars of tomorrow to their specially designed 'Youth Zone' at the PGA Tour's RBC Heritage tournament where they provided a fan experience specifically aimed at young people.
Working on behalf of tournament sponsors Mikkelson Law Firm, RLB Squared, Kinghorn Insurance and First Tee of the Lowcountry, PVE constructed a themed children's putting course, with kids sized entrance, along with providing free PGA tuition against the backdrop of the 18th hole. Marking the 50th anniversary of the RBC Heritage, the PVE activation had hundreds of children swinging a club across the tournament days, aimed at inspiring the next generation of PGA Tour stars.
Nick Clemens, Managing Director and founder of PVE commented, "We've had a fantastic time at the Heritage. It's been great to see so many kids coming through the fan experience, many of whom were picking up a club for the first time. Having the variety of activities really does offer something for every level of ability, and it was great to see budding stars and absolute beginners having fun alongside each other all week."
The RBC Heritage is just one of many golf events on the world's leading golf tours using the services of PVE to bring their fan experiences to life in the 2018 season.