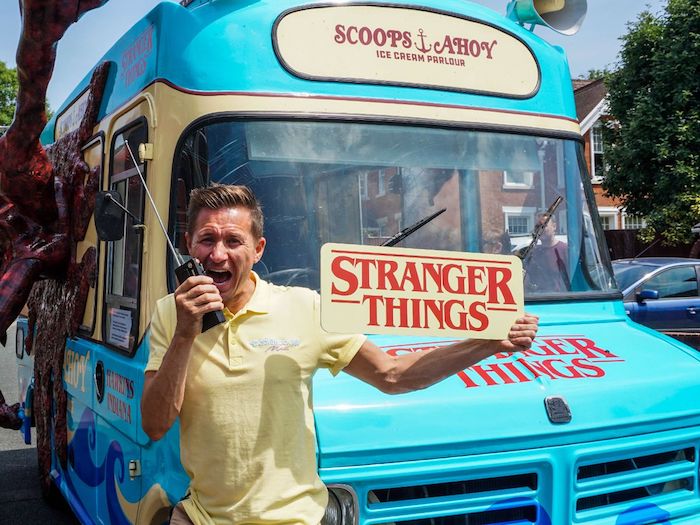 Promohire worked with experiential agency The Persuaders on the Netflix launch of Stranger Things 3. The team transformed an ice cream van to create the Scoops Ahoy ice cream parlour from the new series.
The 1985 inspired ice cream van toured the UK and visited cities such as Glasgow, Leeds, London, Exeter and Dublin. It paid a special visit to 11 "Hawkins Roads" (which fans will know as the show's hometown in Indiana) and gave away free ice cream in retro flavours such as Coke float, cherries jubilee and banana boat.
Promohire kitted out the ice cream van with a PA system to play a Stranger Things jingle inspired by the show's soundtrack. One side was wrapped in a retro theme of pastel pink, white and blue, whilst the other was transformed into the alternate world of the Upside Down, the roof featured a bespoke rooftop sign. The team atPromohire's big brother agency, Raccoon, created the giant monster prop and installed this as part of the build. Tentacles could be seen reaching over the top of the van and 'smashing' the serving window on the other side.
In addition to the vehicle hire and prop building, Promohire also managed the logistics for the 14-date nationwide tour. This included a driver and trailer to get the vehicle to every location, with a technician on hand to assemble and de-assemble the monster prop on live days.