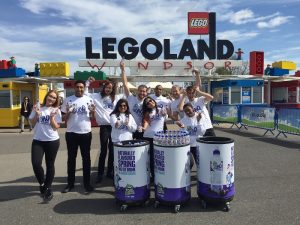 Robinsons Fruit Shoot has launched a new campaign in a contemporary approach aimed at driving relevance amongst parents. The fully integrated, global campaign; It's My Thing, celebrates real children doing what they're passionate about, championing their self-expression and individuality and inspiring parents to support kids in finding their 'thing'.
The campaign creative of It's My Thing is borne from new insight amongst the target audience of 'pragmatic parents' which revealed that pressures from society are limiting children's ability to express themselves and preventing them from finding the thing they really love.
As part of the integrated campaign, iD has launched a 2-week sampling campaign, targeting parents with kids over the busy Easter school holiday period, in high footfall shopping centres nationwide.
Brand ambassador teams will be sampling bottles of Fruit Shoot Hydro across various locations and inspiring parents to enter a competition and encourage their children to show off their adventurous side.
The FruitShootGB Facebook page is being promoted as a forum for parents to share ideas for encouraging child creativity and individuality with content from parents, ambassadors and experts and the chance to win daily prizes to help children discover new passions.
The nationwide tour will be visiting: Milton Keynes, Legoland , Westfield Stratford , Bluewater  Kidzania, Westfield London , Leeds White Rose, Trafford Centre, Liverpool ONE, Birmingham Bullring, Cabot Circus and St David's Cardiff.
Find out more  about iD in our Leading Agencies and Suppliers Online Directory