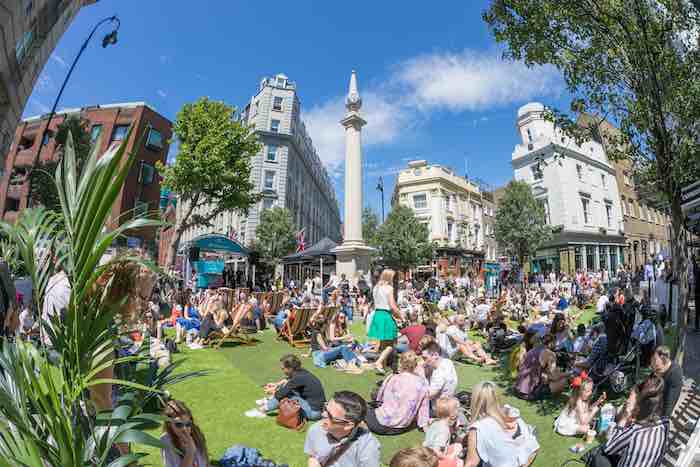 Seven Dials is set to mark the 30th anniversary of its iconic Sundial Pillar with a free one-day event, Festival 30, on Saturday 29 June.
 The current Sundial was unveiled by Her Majesty Queen Beatrix of the Netherlands in 1989, replicating the original structure which was designed and constructed by an English stonemason in the 1690s.
Positioned in the centre of Seven Dials' West End streets, the landmark will be the focal point of the Festival 30 celebrations, with the district closing off traffic from 11am – 6pm for live entertainment, theatre, arts and crafts. Lawns will be installed around the Sundial Pillar for visitors to enjoy alfresco dining around the dial all day, while drinks will be served at a pop-up bar on Earlham Street.
Curators of the Seven Dials Market, Kerb, will also bring its hand-picked street food traders to Shorts Garden, giving visitors an exclusive taste of what's to come ahead of the market's official opening in September.
The district will be transformed into a hub of creativity, with theatrical street performers, live music, illustration workshops, and a schedule of interactive masterclasses on Neal Street. A range of Seven Dials retailers, including Miller Harris, Laura Lee, Benefit, Pierre Herméand Knomo, will take part in the event with in-store activations and special promotions.
David Beida, chairman of The Seven Dials Trust, commented on the event: "The Sundial Pillar is a fundamental part of Seven Dials' story, and its regeneration by the Trust in 1989 has helped to establish the area as the unique destination it is today. This one-day event will perfectly capture the community spirit and special village atmosphere which the area is renowned for."
Karen Baines, head of group marketing and communications at Shaftesbury added: "Festival 30 is an opportunity to celebrate the rich history of Seven Dials, and forms part of our calendar of events which ensure visitors can experience the best the district has to offer – from dining to shopping, to creativity. We're thrilled to work with The Seven Dials Trust to mark this important milestone, and with our mix of tenants to celebrate the occasion."