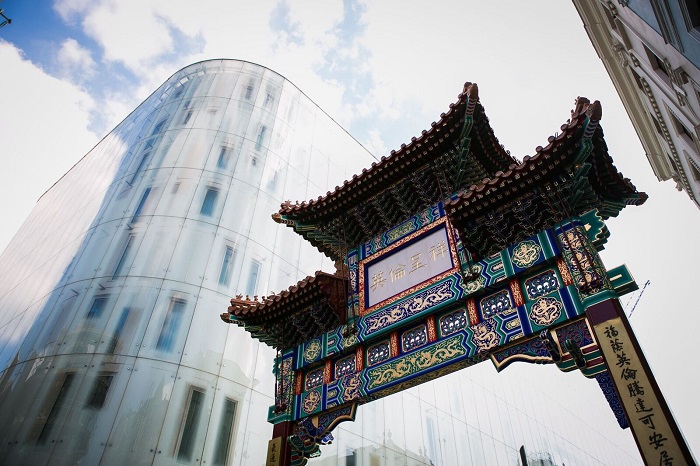 Shaftesbury has announced over 14,000 sq ft of new restaurant lettings and openings in Chinatown, London. The latest additions highlight the area's diverse dining offer, which showcases East Asian culture that blends modernism with Far Eastern traditions.
Natural fast food chain, Leon, have opened shop on Shaftesbury Avenue with a difference. The new venue offers the regular Leon menu, whilst 40 strong staff sing to customers at regular intervals. Reflecting its theatre surroundings, the interior design includes a red carpet leading to the counter and a lift designed as a Royal Box.
New Taiwanese restaurant and bar concept, XU, will make its debut at 30 Rupert Street. XU will immerse diners in the world of Taiwanese cuisine, showcasing the island's cultural diversity. Catering for 44 covers, the restaurant will include an emerald tea counter, wooden ceiling fans and pink marble dining bar framed by a hand painted 'Mountains of Taiwan' mural. A 24-cover Taiwanese 'tea bar' on the ground floor serving rare and competition level leaf teas, providing diners with an insight to traditional Taiwanese tea ceremonies.
Joining XU on Rupert street this summer is Hovarda, designed by Barcelona-based Lazaro Rosa Violan interior design studio. Executive Chef, Hus Vedat's second London restaurant will focus on Greek and Turkish raw seafood and grilled dishes.
Recently opened at 24 Wardour Street is street food waffle brand, Bubblewrap. The café serves egg waffle cones over the counter with a variety of sweet toppings inspired by the popular Hong Kong street food.
Thai hot pot specialists, Hot Pot will offer simmering Thai steamboats cooked at the table in the traditional way.
Completing the quintet of new signings is Thai hot pot specialists, Hot Pot. The new restaurant will offer simmering Thai steamboats cooked at the table in the traditional way.
Commenting on the new signings, Julia Wilkinson, portfolio and group restaurant strategy executive at Shaftesbury, said: "The diversity and quality of these latest signings highlights the eclectic mix of Chinatown London's culinary offer and its reputation as an iconic and exciting destination for food in the West End. We are also delighted Chinatown London has secured debut sites for XU and Bubblewrap, both of which will be bold and innovative additions to our great mix of restaurants."