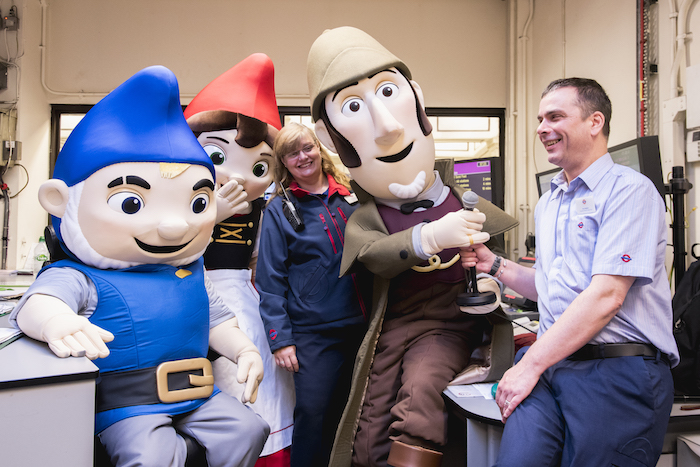 Customers travelling through Baker Street Tube station on Monday April 23rd found that the station had been 'taken over' by gnomes to celebrate the forthcoming release of the new 'Sherlock Gnomes' film (previewing in cinemas on 5-7 May, opening nationwide on 11 May), the sequel to the 2011 film 'Gnomeo and Juliet'.
Throughout the day, Gnomeo, Juliet and Sherlock Gnomes could be found on platforms and in the ticket hall, hunting for clues as to the whereabouts of missing gnomes and handing out activity sheets for children to help them solve the mystery. The Sherlock Holmes silhouettes on the station platform were transformed into Sherlock Gnomes, whiteboards were adorned with tongue-in-cheek messages, such as "Gnome ward bound? […] Gnome pun intended" and public service announcements were made in the voice of Sherlock Gnomes. Posters showcasing the characters from the film could be found on the northbound Bakerloo line and on advertising sites across the London Underground network.
Graeme Craig, director of commercial development at Transport for London (TfL) said: "This fun campaign is a great example of how brands of all sizes can use our stations in a creative and engaging way to connect with tens of thousands of people. We hope that today's pintsized activities will bring a bit of unexpected fun to our customers, young and old, passing through the station today. Activities like this provide vital funds that we are investing in modernising the transport network for the benefit of all of our customers."
Richard Simkins, creative solutions director at Exterion Media, said: "This Sherlock Gnomes campaign is a great example of the impact 'station animation' can have on the London Underground. It is a powerful combination of our Exterion Live experiential offering, our award winning Creative Solutions and our close partnership with Transport for London that delivers a truly memorable brand experience."
This two-week marketing campaign is a media partnership between TfL and Exterion Media. The partnership provides creative, bespoke advertising opportunities, like this one, to an audience of over 1.5 billion on London Underground, London Overground, the DLR, Tramlink, Victoria Coach Station and, from 2018, the Elizabeth line. Through the partnership's innovative approach to technology and transforming the physical advertising assets in station environments, advertisers increasingly have more flexible and dynamic opportunities to connect with their target audiences, while helping to generate vital revenues to invest in London's transport network.