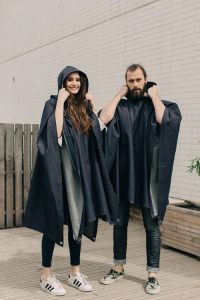 With utility in mind, Tabasco Brand has tapped London designer Urbanology to create a limited-edition range of wearable items (and accessories) to combat all weathers, for home chefs and their guests.
The inspiration for the collection came about last June. During the filming of a BBQ segment with a Tabasco Brand chef ambassador, the skies opened and it started raining. The chef had to BBQ under an umbrella. The Met Office stats from last summer back it up, as last year Britain endured its wettest ever June.
A recent study on how the weather affects BBQing, Tabasco Brand found:
As a nation, we're renowned for talking about the weather, but planning around it doesn't appear to be one of our strengths as 35% of Brits don't consider the weather forecast when planning a BBQ.
¼ of all British BBQs are typically planned a week or more in advance – long before any reliable weather forecasts are available.
So, it's no surprise a whopping 30 million British BBQs were cancelled due to bad weather in 2016.
Tabasco x Urbanology will be offering handmade products made from locally sourced materials to help Brits get their sizzle on come rain or shine. 10% of profits from the sale of the collection will also go to the children's food charity, Magic Breakfast. The unisex collection includes:
3-in-1 Showerproof Poncho: Designed for all weathers, this handmade showerproof denim poncho made from 100% cotton protects BBQ chefs from the rain. It also transforms into the ultimate 4-person gazebo. The durable BBQ essential provides coverage for all your partygoers gathered around the grill. And when the sun finally comes out, the gazebo switches into a picnic blanket. (RRP £95)
BBQ Tool Wrap: Sleek and stylish, this locally crafted showerproof denim wrap, complete with a 100% leather strap, contains stainless steel BBQ tools, practical pockets and Tabasco Sauce-sized pouch. (RRP £57)
The Beard-Pinny: Maybe even more ubiquitous than the rain these days are beards so the showerproof bespoke beard-pinny will ensure the nation of facial hair enthusiasts can keep their beards free from rain and any BBQ sauce mishaps this summer. (RRP £15)
Aprons: The cotton aprons are made with 100% leather straps, and pockets especially for sun cream and of course TABASCO® Sauce – two outdoor cooking essentials!(RRP £60)
Light Reflective T-shirts: Designed for warmer temperatures, the t-shirts will keep you cool when the sunshine finally appears. (RRP £17)
Urbanology founder and designer, Kat Curtis commented: "I had a lot of fun designing a unique and quirky capsule collection to help Brits BBQ on no matter what mother nature serves up this summer. It was a really creative process and I loved experimenting with showerproof fabric and also took some inspiration from the SS17 catwalks adding in the shade of the season, millennial pink".
The collection will follow the weather and go on sale in parallel with the elements. Algorithms will monitor the weather in London and display the appropriate garments ahead of particularly wet or sunny forecasts.
Executive vice president and 5th generation McIlhenny family member, Harold Osborn, said "Tabasco pepper sauces have played a big role in summer BBQs around the world. We're delighted to team up with Kat and the Urbanology team to weatherproof home cooks for the unpredictable British weather. We hope these items helps make the nation's BBQ gatherings even better – whatever the weather. And we imagine the beard pinny might make a few people laugh, as well".