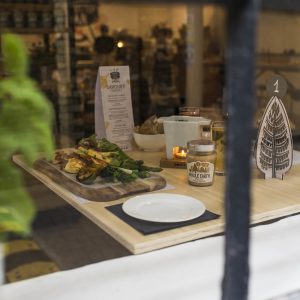 Whole Earth has created the first-ever peanut butter fondue bar in Shoreditch, London, which opened to the public on 24-25 November.
Over the two days, the Whole Earth Nut Butter Bar became a must-visit destination for peanut butter fans. The unique dining experience gave visitors the opportunity to experiment with different dipping combinations, enjoyed in a cosy, plush interior.
Showcasing the flexibility of the spread, the event – designed and managed by experiential agency, Mad River – highlighted the different ways that fans can enjoy the natural goodness of Whole Earth nut butters.
Taking visitors on an all-you-can-eat dipping and dunking adventure, Whole Earth brought out favourite winter warmers but with a unique twist, offering both sweet and savoury fondues like Original Peanut Butter and Chocolate Peanut Butter.
At the end of the two-hour long event, diners could take away recipe cards and information to recreate the fondues at home.
Katrina Farmer, Whole Earth senior brand manager at Wessanen UK, comments: "Peanut butter is not just for spreading on toast. It can be enjoyed in a variety of ways from spooning on to cereal to adding a nutty twist to your favourite curry or as a tasty dip. This is what we wanted to celebrate with our unique Peanut Butter Fondue Bar; the wonder and diversity of our peanut butter. Packed full of protein and fibre, peanut butter fondue offers consumers an indulgent experience but with a healthier dip."