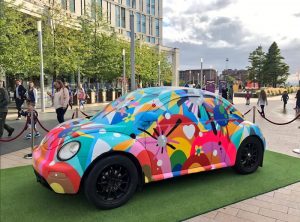 To mark the 50th anniversary of the 1967 Summer of Love, the phenomenon that saw 100,000 people, including musicians and artists, flock to San Francisco's Haight Ashbury district, Liverpool ONE invited artists to paint three iconic Volkswagen Beetles for a unique art installation on Paradise Street.
Each VW Beetle will be designed with a theme of 50 Summers of Love and will be painted by professional artists in just a day. The first of the three cars was painted and exhibited on August 12 and the last being painted between 10am – 6pm on Saturday, August 26.
Miles Dunnett from Grosvenor Europe, which manages Liverpool ONE, said: "This is a brilliant showcase for some unique art to which the public response has been overwhelming positive.  1967 was the same year the Beatles' iconic album, Sgt. Pepper's Lonely Hearts Club Band, was released and so the city has a special link to the Summer of Love and the art that defined an era.  We are thrilled to have launched this installation which adds to the many enlivenment initiatives that make Liverpool ONE such a colourful and thriving retail and leisure destination."
The VW Beetle art follows the recent announcement that Chavasse Park in Liverpool ONE has been recognised for the fourth consecutive year by the Green Flag Award Scheme as one of the very best in the world, the only city centre park to be awarded Green Flag status.  Inspired by Liverpool's 2022 Commonwealth Bid, Liverpool ONE is hosting a range of sports on Chavasse Park during the school summer holidays, and has also welcomed back the award-winning 'Tickle the Ivories' installation, providing six public pianos across Liverpool ONE from July until September.