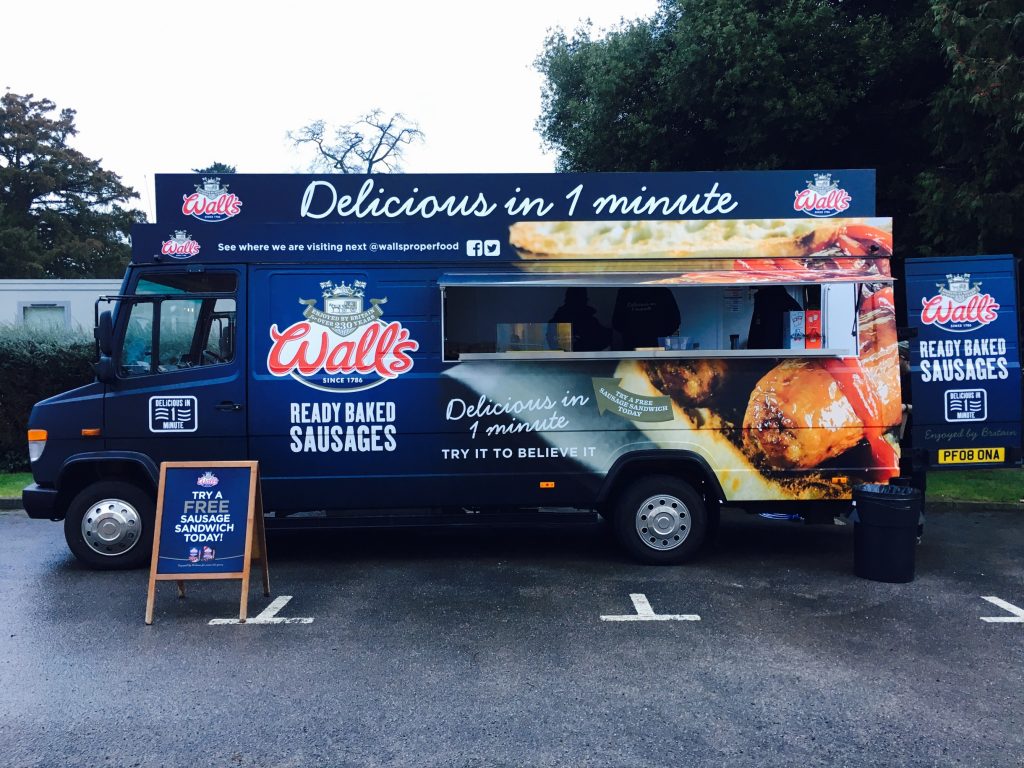 To celebrate their re-branding and to drive sales of Ready Baked Microwave Sausages, Wall's have embarked on a two month roadshow to deliver over 50,000 samples of their 'delicious in one minute' sausages to the nation.
Leeds based experiential agency, iMP have converted a seven-metre long Mercedes truck into a bespoke sampling unit. iMP sourced, purchased, converted, equipped and wrapped the vehicle and installed a fully functioning kitchen including stainless steel worktops, commercial fridges and microwaves.
iMP are managing all other aspects of the campaign logistics including scheduling tour dates and locations, managing stock, securing site applications, health and safety and supplying drivers and brand ambassadors.
During it's time on the road, the bespoke truck will visit 25 high footfall locations across the country including Tesco HQ and Kerry Foods.
iMP has also built a bespoke sampling pod for delivering the activation to smaller sites.
iMP designed, built and wrapped the pod which features microwaves, LED Lighting and a serving hatch.  The pod will be visiting 23 locations across the country including train stations, supermarkets and universities.
Wall's Ready Baked packaging has been redesigned for a contemporary look with a heritage feel and is being championed as a perfect option for breakfast. The sampling will consist of Wall's Ready Baked sausages served in a freshly baked ciabatta roll with either HP Brown Sauce or Heinz tomato ketchup alongside a money off next purchase voucher.
David Gibbons, Managing Director at iMP comments "Working directly with one of the world's most iconic, heritage food brands is a privilege. Wall's no fear, no nonsense approach is right up iMP's street – we love the fact they just want to get out there and put the great British sausage sandwich in tens of thousands of consumer hands."